Imagine if your customers could build their own personal plant lists...
When you purchase the myPlants option, they can! Not only are your customers able to search through your current catalog of plants on your website, but they can build up a list of their selections as they search. They can prepare an order for an entire landscape plan or garden design based on the plants available at your business (by the way, your professional landscaping customers will love this tool)! It sure beats skimming through hundreds of pages of paper or scrolling through endless online lists, doesn't it? And best of all, this is not online shopping, it's "pre-shopping" - NetPS is designed to lead customers into your store, because that's where you're at your best!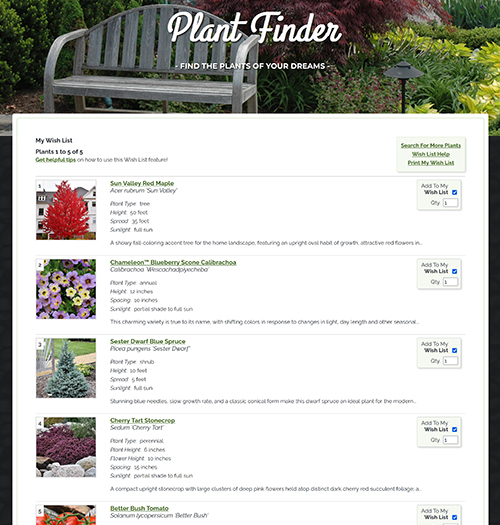 + plant list page
With the myPlants feature, your customers are able to build their own individual and personalized lists of plants that you carry from their search results simply by clicking on the "Wish List" checkbox beside each. They can add plants to their list, they can remove them at any time, and they can even set quantities for each plant. They can use this feature as a "bookmark" for plants of particular interest for later reference, to narrow their selections after searching, or to generate a plant list which they can then print out and bring into your business to see the plants, or even to place an order!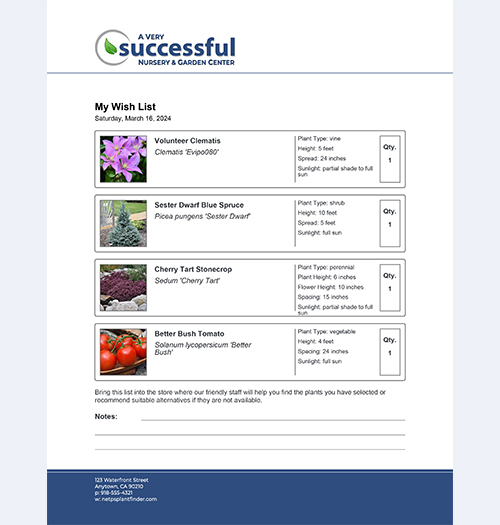 + printer-friendly list
You want your customers to print their personal plant lists and bring them into the store - again, there's a PDF template that lets you do this on your own letterhead. There are also two layouts available for the plant list print pages. The "Wish List" format is ideal for bookmark or reminder lists, with an indicative thumbnail photo of the plant along with its name and some basic information. The "Invoice Style" formats their list much like a formal invoice, with blank fields for sizes and prices next to each plant name. The choice is yours - whatever better suits your business needs!
Now let's see how you can market your plants with your Plant Finder tool!
Learn all about the world-leading NetPS Plant Finder tool: