Your Plant Finder will help you market your plants online.
You're a nursery or garden center and your primary purpose is to sell plants - we get that. That's why as much fun as NetPS is for your customers, it is first and foremost a marketing tool - we've designed it this way. We've packed it full of powerful marketing features and tools that you can use to increase plant sales and target your marketing initiatives, even down to the level of specific plants.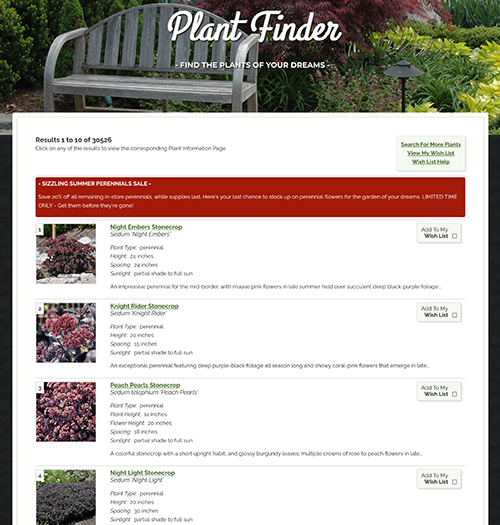 + promotions and sales
The NetPS Promotions Manager lets you create your own plant promotions and sales on your Plant Finder tool. You can flag certain plants as "Featured Plants", highlighting them and bumping them up in the priority of search results. You can put entire plant categories on sale - "Trees And Shrubs 20% Off This Month Only!" - and set automatic start and stop dates. You can uniquely highlight your own proprietary branded plant lines. You can flag certain plants in your inventory as "Special Order", which lets you test-market new plants before they're even on your shelves, or you can flag your newest introductions as "New For 20XX".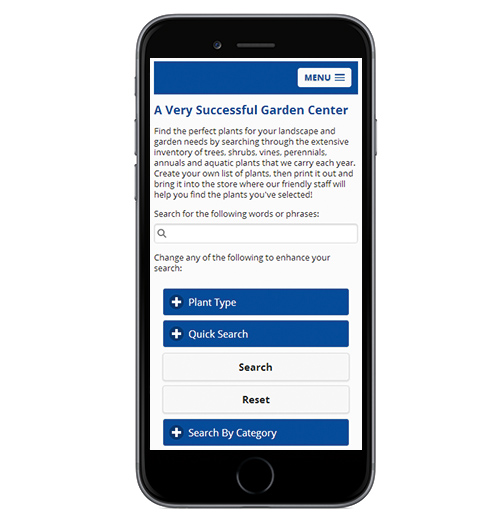 + mobile-ready
The number of people using smart phones to search the web is growing every day, and that's why NetPS is ready-made for the mobile world. NetPS was developed with "responsive design" in mind, meaning that your Plant Finder will instantly be "mobile-friendly" for most mobile devices and cell phones. It supports QR coding, directing users to specific plant information pages from their smart phones, and you can even generate the actual QR codes right from your NetPS Account Manager!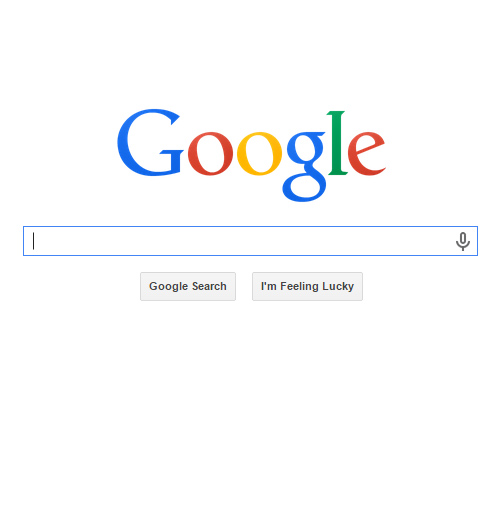 + search rankings
If you don't show up in the search engines, you might as well not exist. That's why Search Engine Optimization (SEO) has been built right into NetPS, and the results are astounding. Customers searching for specific plants on the major search engines will find you without even knowing who you are, where you are, or that you sell these plants. A special "SEO Locations" field lets you set multiple locations as keywords so that you can target new markets. Having a Plant Finder tool will also increase the search rankings of your base website as customers visit your website after having found you through your Plant Finder.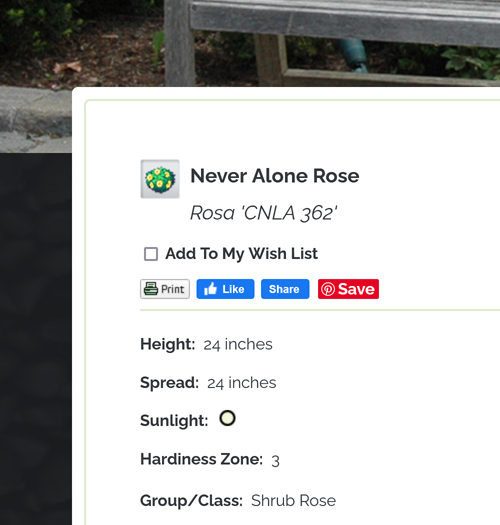 + social media
Social Media is the new word-of-mouth marketing these days, with Facebook and Pinterest replacing the old garden club coffee klatch. It's how your best customers advocate your products to their friends, and your Plant Finder tool delivers it in spades. Customers can "Share" their favorite plants that you sell with their Facebook friends, and "Like" specific plants in your selection with the click of a button. They can pin their favorite plant photos on Pinterest, with every image linking back to your website. We've made it easy!
We have the database and the photos - let's use them to make signs for your plants!
Learn all about the world-leading NetPS Plant Finder tool: