You have an online store, but...
You're busy selling plants - you have neither the time nor the resources to manage the information and photos for all the plants in your online store. And yet your online store can only succeed if it looks sharp and appealing, with pictures that sell and concise information tailored to market your plants to gardeners and home landscapers.
With NetPS Plus, your store will gain instant credibility with professional-looking content. Your customers will see the same high-quality photographs found in the NetPS Plant Finder tool, and they'll enjoy the caliber of plant information found in hundreds of Plant Finder tools across the nation. They will see the plants in their full glory, showing off their primary attributes, and they will read compelling descriptions that help them envision those plants in their yards and gardens.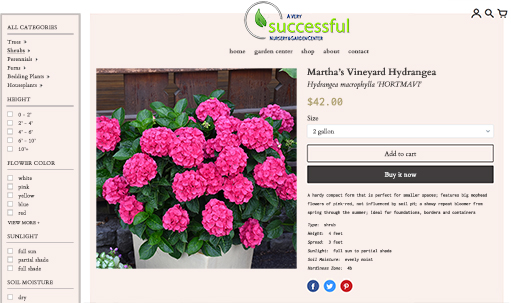 You'll also have the security of knowing that you have the legal rights to use all of the plant information and photographs from the NetPS Plant Finder tool for as long as you remain a paying client.* With so many lawsuits for copyright infringement in this digital era, you expose yourself to business-breaking liability if you simply take photos off the internet, and you can't always trust the growers and plant marketers to be the rightful owners of the photos they may share with you. With NetPS Plus, you won't have to chase after thousands of plant photographs for your online store, seeking the legal owners and obtaining their written permission to use their photos; you'll have a single legal source for all your plant photo and information needs!
The NetPS Plus data set is modeled on the NetPS Plant Database, with significant enhancements for e-Commerce. You'll get access to all of the raw plant information contained in this industry-leading database, along with dozens of additional presentation-ready and e-Commerce-specific fields. The data set can be custom-tailored to support batch product uploads into most popular e-Commerce systems. It's ideal for professional e-Commerce developers as well as "do-it-yourselfers" with a minimum technical knowledge of how to set up e-Commerce integrations.
How does it work?
+ annual subscription
NetPS Plus is an annual subscription-based service, just like the NetPS Plant Finder tool. What you're actually purchasing is a license to access all of the same plant information and photographs from the NetPS Plant Finder tool as discrete components, so that you can use them in your own web applications and technologies. Think of it as getting the important pieces of the NetPS Plant Finder tool in a "box of parts", with additional development required on your part.
+ administrative access
After signing on to this service, you'll access the plant photos and information through a dedicated portal in your NetPS Account Manager utility. A user-friendly interface helps you customize data exports for your specific needs, and the photos are made available either via URLs on our hosted web server or by manual download through the Account Manager. The data set must ultimately be integrated into a local database or an e-Commerce system on your side.
Ready to learn more? Let's explore how NetPS Plus is optmized for e-Commerce applications.
*The NetPS Plus license agreement expressly prohibits clients from redistributing or reauthorizing the use of the photos and data to third parties (i.e. you can't authorize others to use the photos and plant information, and you can't package them into a technology that you in turn sell to other users).
Get the full details on NetPS Plus: